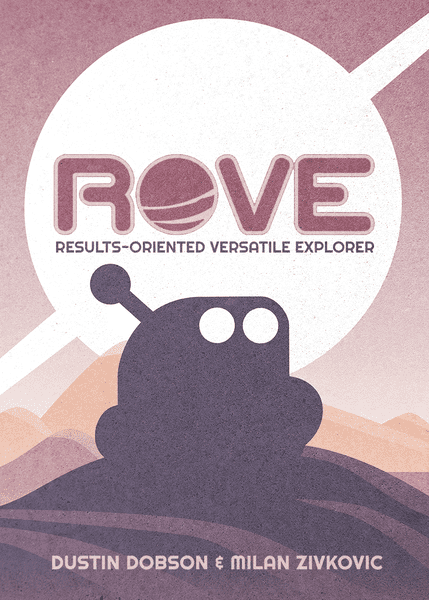 "We are really trying to make all our games highly accessible." – Milan Zivkovic
ROVE: Results-Oriented Versatile Explorer is a spatial puzzle game designed by Dustin Dobson and Milan Zivkovic, with art by Dustin Dobson and rules editing by Michael Lee. ROVE is the newest release from Button Shy Games, a publisher known for packing a lot of game into a small package – typically 18 cards in a bi-fold wallet. Each game fits in my backpack or back pocket, and I tend to have one handy most of the time.
An unabashed fan of Button Shy (I own more than a dozen titles) I've recently enjoyed Tussie Mussie and Agropolis, and every game I've played so far reflects Jason Tagmire's efforts to ensure colorblind accessibility.
"We usually try to double code as much as possible. Color palettes often lean towards thematic over mechanic, but we always have it in mind."
Gameplay
ROVE is a solo spatial puzzle game that plays in about 15 minutes (I'd also recommend it as a 2-player coop). Each mission requires the six module cards to be arranged in a certain pattern, and each module has a one-time-use ability and unique movement features (some move only orthogonally, others diagonally, one pushes other modules, etc.).
The player selects one of their movement cards to gain "movement points," including bonus movements available based on mid-mission spatial patterns. It's a clever set of mechanisms that expands the game (both on the table and in my brain) further than expected. If you like Onitama or other spatial abstracts, ROVE has similarities, including the need to think about future turns based on the cards in your hand.
It took me a few attempts to play this pre-release game correctly, exposing my reliance on how-to-play videos and discussion boards. But once I figured things out, I found ROVE to be a challenging puzzle. It is more straightforward than a game like Sprawlopolis, and I found it more winnable at the standard difficulty (complete seven missions with a five-card hand).
On top of the base game, the Fascinating Flora six-card expansion offers players the ability to reset module abilities and provides six new missions to shuffle into the deck. I found it an excellent addition and recommend picking it up for the full ROVE experience.
Color Vision Accessibility
The muted tones in ROVE are thematically fitting, and since color is not used as the primary distinguisher of the rover modules, my inability to identify the colors had no impact on gameplay or my enjoyment. The six named modules (Brain, Coil, Gripper, Laser, Motor, and Sensor) are primarily identified by clear icons on all relevant cards, with color only used as a supplement. When a module's special ability is used, flipping it over replaces the star with an "X", another easy-to-see difference on the card regardless of its color.
I had a chance to hear from Dustin and Milan about their approach to accessibility when designing and developing art for ROVE. The co-designers have all types of players in mind. Dustin shared the following:
"It is important for me that my games are accessible. For example, as a rule I try to never rely on color alone to relay information to the player.

Games should be enjoyable for everyone."
I wholeheartedly agree, and and ROVE lives up to this ideal. It could be played in true greyscale, if needed, making it 100% colorblind accessible.
Conclusion
ROVE is a delightful, quick puzzler made for solo play on your kitchen table or while waiting at the airport gate. I enjoy its portability, offering a fun and replayable experience using just 18 cards. Your first opportunity to pick up ROVE will be on Black Friday 2021, as a direct release from Button Shy Games.
---
Colorblind Games received a complementary copy of ROVE from the publisher for this review.